Inovaxe to launch new Smart Racks alongside pick-and-place machines at SMTAI

DEERFIELD BEACH, FL — October 2022 — Inovaxe, a world leader and provider of innovative material handling and inventory control systems, will exhibit in Booth #1031 at SMTA International, scheduled to take place Nov 2-3, 2022 at the Minneapolis Convention Center in Minnesota. Inovaxe will launch its brand new LS700 Series Smart Racks, designed to operate right next to pick-and-place machines and feeder tables for fast and efficient feeder loading and replenishment.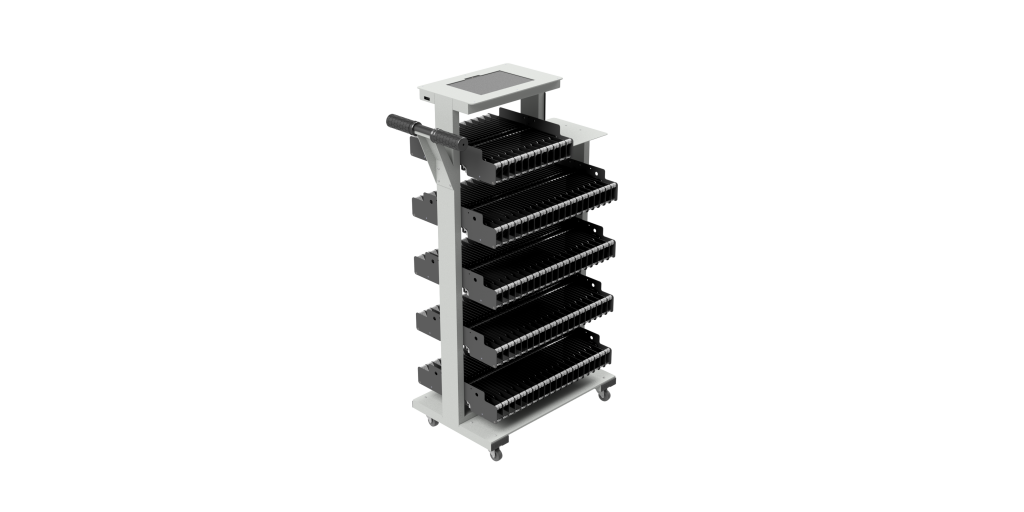 The LS700 model has four rows of 7″reel storage for a maximum capacity of 320 7″, 8mm reels in less than 2.5 square feet of floor space. The LS700-1 model adds an additional half row of reel storage to provide 368 7″, 8mm locations, maximizing capacity while still providing access to important controls on production equipment like emergency stops.
Both models include an integrated display running the standard InoAuto software, with additional features optimized for lineside usage, as well as an integrated 1D/2D barcode scanner. LS700 racks can operate as standalone storage, or as part of a complete InoAuto system, and can interface directly with pick-and-place machines and MES systems to automate production operations.
LS700 racks can operate as stationary storage that stays on the production line, or they can be equipped with a battery to provide mobility – allowing operators to move racks back and forth from production lines and storage areas.
These new solutions will streamline SMT material handling processes by decreasing handling time, cutting out errors and manual data entry, stopping line-down occurrences and eliminating the black hole of WIP.
For more information about how Inovaxe's innovative material handling systems and services can improve your inventory accuracy and reduce your labor costs, visit www.inovaxe.com.
###
About Inovaxe Corp.
Inovaxe Corporation is focused on delivering innovative ultra-lean SMART production and inventory management solutions to the electronics industry. The Company's product offering includes mobile InoAuto Smart carts (IA series), Smart racks (SR series), and Smart stationary racks (SREX series) to store SMT reels, tubes, trays, cut tape and loose parts.  We provide a Smart MSD cabinet (IMSD) for moisture sensitive device storage and a Smart stencil rack storage solution (SRS series).  We offer our InoAuto software for managing smart carts and inventory. For more information and a demonstration of Inovaxe product offerings, visit www.inovaxe.com.