Material handling systems are limited to racks, bins, buckets and generic carts that are loosely adapted to the electronics manufacturers' needs. Software solutions are designed to have broad applications ― generic solutions are used for CNC machine shops, plastics manufacturers, electronic manufacturers as well as a variety of assembly-type houses.
Single Package Single Location storage Carts and bins (InoCarts) in conjunction with our scalable Web based software (Inovision and InoView) brings about the following benefits to manufacturers:
Increase Inventory Accuracy
Decreases Machine Set-up Time
Reduces Space Requirement for Part Storage
FIFO
Minimize Partial Reels
Substantially Reduces Surprise Shortages
Reduces Part Handling Time
Reduces Kitting Time
Substantially Decreases Loading Wrong Parts into the Machine Feeders
Reduces SMT machine load time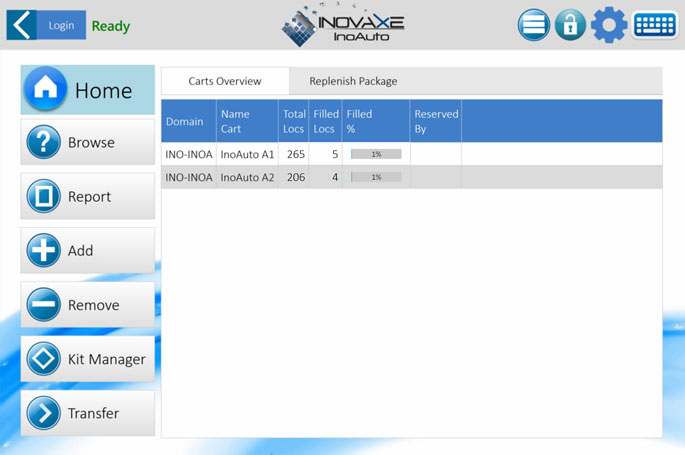 InoView is Inovaxe's proprietary Web-based material handling system (MHS) that offers the benefits of flexibility, speed, accuracy, and cost-efficiency.
InoAuto is included with every Smart Cart controller unit and will reside in the tablet. It provides "single package, single location" control and visibility.
Add Packages to Smart Storage
Browse Inventory
Remove Packages with Picklist
Replenish
Transfer
Detailed Inventory Reports
Click here to learn more about Inovaxe's Inventory Management Software or contact us below to schedule a free demo.