Inovaxe to Roll Out SR100E Replenishment Rack during SMTAI Virtual Expo
DEERFIELD BEACH, FL — August 2020 — Inovaxe, a world leader and provider of innovative material handling and inventory control systems, will exhibit in the SMTA International Virtual Conference & Expo. The Live Virtual Exposition is scheduled to take place Sept. 28-30, 2020. Inovaxe will discuss the new SR100E Replenishment Rack, designed for operation on the production line right next to the pick-and-place machines to facilitate efficient feeder replenishment.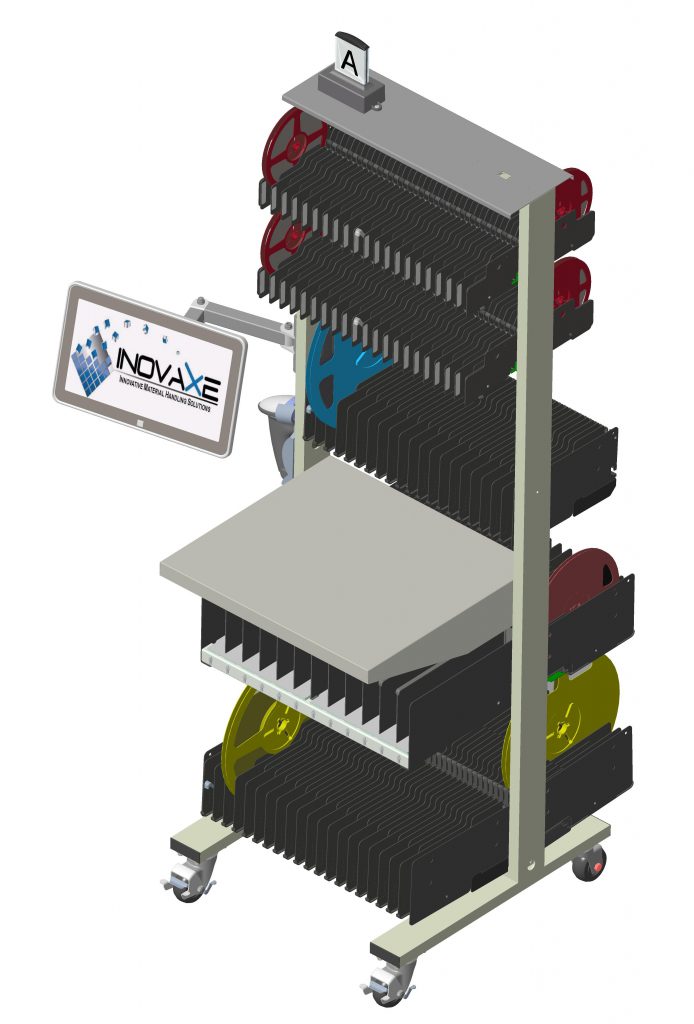 Whether a low-volume kit or a high-volume run, users can keep material loaded in lineside smart racks ready to go. As soon as a new reel is required for a feeder, it can be lit in seconds and ready to be loaded into a new feeder or spliced on to an emptying reel.
The replenishment rack has a flexible mix of reel storage, handling 7", 10", 13", and 15" reels of various widths, along with a work surface for various tasks like tape splicing and feeder loading. Customers can store splicing tools and materials, and install their own splicing fixtures if desired. Inovaxe also can provide custom solutions for holding feeders on the working surface, allowing operators to pick a reel and load it in a feeder as quickly as possible.
Combined with Inovaxe's easy-to-use InoAuto software these standalone racks can streamline SMT operation, reducing line down occurrences and eliminating operator errors. With Inovaxe's various integration options, replenishment racks can help close the loop and eliminate the black hole of WIP.
For more information about how Inovaxe's innovative material handling systems and services can improve your inventory accuracy and reduce your labor costs, visit www.inovaxe.com.
About Inovaxe Corp.
Inovaxe Corporation is focused on delivering innovative ultra-lean SMART production and inventory management solutions to the electronics industry. The Company's product offering includes mobile InoAuto Smart carts (IA series), Smart racks (SR series), and Smart stationary racks (SREX series) to store SMT reels, tubes, trays, cut tape and loose parts. We provide a Smart MSD cabinet (IMSD) for moisture sensitive device storage and a Smart stencil rack storage solution (SRS series). We offer an inventory/kitting software management tool (InoView), and InoAuto Locator software for locating components. For more information and a demonstration of Inovaxe product offerings, visit www.inovaxe.com.