La solución inteligente de manejo y almacenamiento de material ultra-LEAN de Inovaxe en el S.E.E.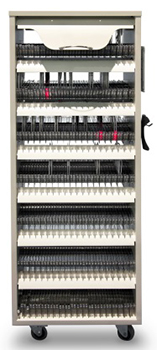 DEERFIELD BEACH, FL — April 2018 — Inovaxe, a world leader and provider of innovative material handling and inventory control systems, will exhibit with its new distributor, Interflux Skandinavia, at the Scandinavian Electronics Event (S.E.E.), scheduled to take place April 24-26, 2018 in Stockholm. The company will highlight its Intelligent Ultra-Lean Total Material Handling and Storage Solution that addresses the challenges of dealing with SMT parts and kits within the stockroom and WIP locations.
Inovaxe will showcase its IA700-S-C half size SMART Storage System. Inovaxe has provided manufacturers with the capabilities to substantially streamline their material handling systems and achieve the following benefits:
Más del 90 por ciento de reducción de mano de obra en la extracción de kits y la devolución de partes
Más del 90 por ciento de reducción de espacio en almacenamiento de partes y kits SMT
Reducción del tiempo de preparación y aumento del tiempo de preparación de la máquina
Reducción del tiempo de viaje del operador en un 60 por ciento
Elimina el papel para la operación de carga del kit y del alimentador
Mejorar drásticamente la precisión del inventario sin contar las partes
Reducir sustancialmente los errores en la operación de configuración del alimentador
El retorno típico de la inversión es de menos de tres a seis meses
The SMART InoAuto ultra-lean material handling systems enable users to locate parts in less than four seconds and return a part in less than eight seconds. The carts are mobile, store 560 reels in 0.23 m2 or 1120 reels in 0.42 m2, and the ROI is less than six months. Additionally, Inovaxe offers integration with Panasonic SMT equipment through PanaCIM (8 and 10) software. For more information about how Inovaxe's innovative material handling systems and services can improve your inventory accuracy and reduce your labor costs, meet company representatives at S.E.E. or visit www.inovaxe.com.
###
Acerca de Inovaxe Corp.
La Corporación Inovaxe se enfoca en ofrecer soluciones innovadoras de producción y gestión de inventarios a la industria electrónica. La oferta de productos incluye el manejo de materiales en condidiones ambientales estandar (InoAuto, InoCarts e InoKits) y equpo para almacenamiento de aquellos materiales sensibles a la humedad (InoCart MSD), un sistema de gestión de la cadena de suministro (InoVision), una herramienta de gestión de software de inventario/kits (InoView) y el software InoAuto Locator para la localización de componentes.
Para obtener más información y una demostración de los productos de Inovaxe, visite www.inovaxe.com.