Surf-Tech Manufacturing Utilizes 6 Inovaxe Mobile Smart Racks to Manage Inventory
DEERFIELD BEACH, FL — September 2022 — Inovaxe, a world leader and provider of innovative material handling and inventory control systems, is pleased to announce that Surf-Tech Manufacturing Corporation utilizes six Inovaxe SR Series Mobile Smart Racks at its facility in Ronkonkoma, New York. A multi-faceted provider of contract manufacturing services since 1989, Surf-Tech delivers BOMs to its Smart Racks to deliver many parts at a time.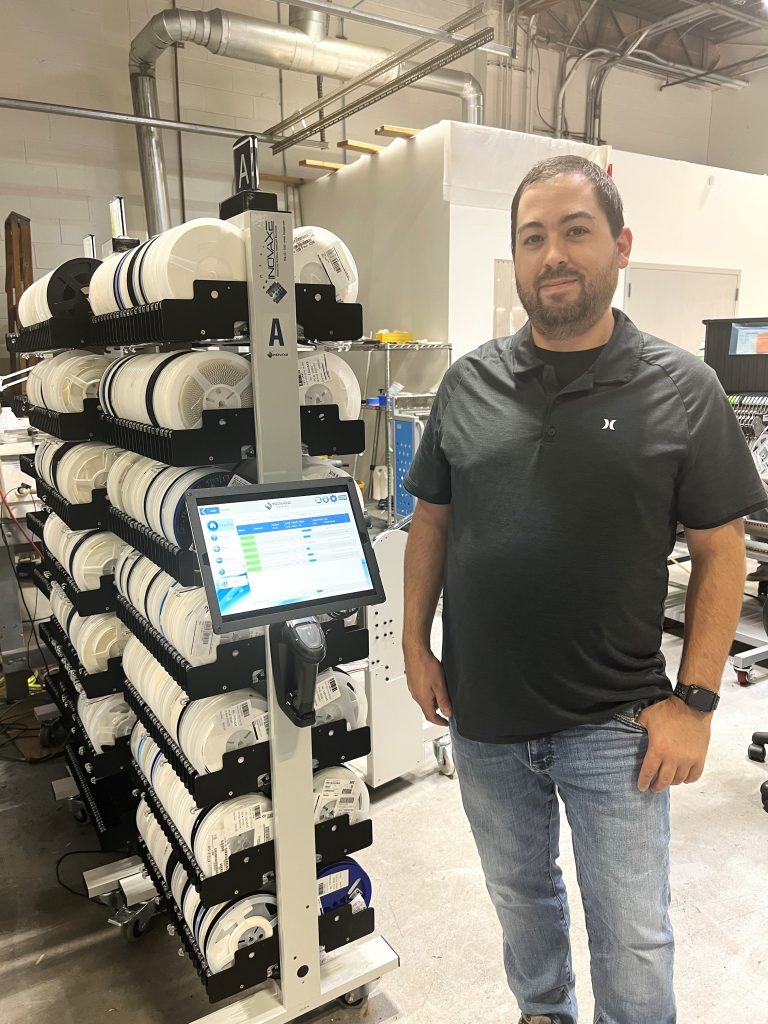 "Inovaxe is so happy to see that Surf-Tech is receiving all of the benefits that our smart storage solutions offer," said Margy Khoshnood, VP Sales at Inovaxe. "They've been able to keep their SMT line running more quickly and efficiently, reduce kitting time, eliminate operator errors, reduce storage space and quickly find their parts. We are excited to continue to work with Surf-Tech's team to further expand their ultra-lean smart rack system!"
As a result of the company's full-service capabilities, including all phases of electronic manufacturing and assembly work, many customers have been with Surf-Tech from the beginning. Specializing in Surface Mount Technology, Surf-Tech has state-of-the-art automated equipment in-house to perform critical placement of components.
The SR Series Smart Racks store up to 560 reels in about three square feet. The Smart Racks are easily configurable, modular and cost-effective. Daisy-chain multiple Smart Racks together on one controller to increase capacity or use a battery to make them mobile.

Surf-Tech provides solutions for a range of manufacturing needs from prototype design to end-customer webstore fulfillment. For more information, visit surftechmfg.com.
For more information about how Inovaxe's innovative material handling systems and services can improve your inventory accuracy and reduce your labor costs, visit www.inovaxe.com.
###
About Inovaxe Corp.
Inovaxe Corporation is focused on delivering innovative ultra-lean SMART production and inventory management solutions to the electronics industry. The Company's product offering includes mobile InoAuto Smart carts (IA series), Smart racks (SR series), and Smart stationary racks (SREX series) to store SMT reels, tubes, trays, cut tape and loose parts. We provide a Smart MSD cabinet (IMSD) for moisture sensitive device storage and a Smart stencil rack storage solution (SRS series). We offer our InoAuto software for managing smart carts and inventory. For more information and a demonstration of Inovaxe product offerings, visit www.inovaxe.com.