Inovaxe Enhances Sales and Support Coverage for the New England Territory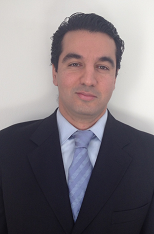 DEERFIELD BEACH, FL — February 2014 — Inovaxe, a world leader and provider of innovative material handling and inventory control systems, has appointed Hermes Technology LLC as its manufacturers' representative throughout the New England area.

Hermes Technology provides technology solutions for electronic PCB assembly. The company's CEO Faraz Firoozabadi has more than 15 years of electronic design and manufacturing experience in the industry.
Margy Khoshnood, Inovaxe's VP of Sales, commented, "We are very excited to have Faraz join our Inovaxe sales team and to have such a technical, highly professional sales representative present our ultra-lean material handling solutions in the New England territory."
Hermes Technology LLC will represent Inovaxe's material handling and inventory control systems throughout Massachusetts, New Hampshire, Rhode Island, Vermont, Maine and Connecticut. For more information about Hermes Technology's products and services, contact Faraz Firoozabadi at (617) 678-3206 or on the Web at www.hermestec.com.
For more information about any Inovaxe, visit www.inovaxe.com.
About Inovaxe Corp.
Inovaxe Corporation is focused on delivering innovative production and inventory management solutions to the electronics industry. The Company's product offering includes ambient air and MSD Material Storage Hardware (InoCart), a Supply Chain Management System (InoVision), a stockroom management tool (InoView), and a Procurement Program (InoKit Pro).
For more information and a demonstration of Inovaxe products, visit www.inovaxe.com.