Inovaxe presenta 'Control de Inventario y Modernización del Manejo de Materiales' en SMTA Guadalajara
DEERFIELD BEACH, FL — September 2017 — Inovaxe is pleased to announce plans to present at the SMTA Guadalajara Expo & Tech Forum, scheduled to take place Oct. 18-19, 2017 at Hotel Riu Guadalajara. Ben Khoshnood, Inovaxe president, will present "Inventory Control and Modernizing Material Handling."
Topics of discussion will include:
The material challenge
Material process stuck in the Stone Age
Understanding material cost
Discussing ROI for material solutions
Today's material solution examples
What you can accomplish with today's material handling and storage solutions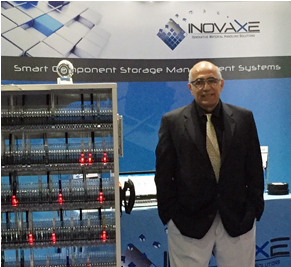 Khoshnood will present what a perfect material handling process should look like today. Additionally, he will discuss ways to achieve increased profitability and a highly competitive cost structure, as well as how to grow domestic manufacturing.
Khoshnood founded Inovaxe Corporation in 2003 when he became President and CTO. In 2012, he expanded Inovaxe product offerings to include intelligent material handling systems for the electronic marketplace. Inovaxe offers innovative, ultra-lean material handling storage and software solutions for electronic manufacturing companies.
Inovaxe has since become a key Total Solution Partner to Panasonic North America, has partnered with Avnet, set up a sales distribution channel throughout Europe, and has expanded into Asia. Khoshnood has authored or co-authored numerous papers in the areas of biomedical and electronics research, and holds numerous patents within the electronic field. He graduated from West Virginia University in 1978 with a Master of Science Degree in Electrical Engineering (MSEE). He received his Bachelor of Science Degree in Electrical Engineering (BSEE) from the New Jersey Institute of Technology/NCE.
Acerca de Inovaxe Corp.
La Corporación Inovaxe se enfoca en ofrecer soluciones innovadoras de producción y gestión de inventarios a la industria electrónica. La oferta de productos incluye el manejo de materiales en condidiones ambientales estandar (InoAuto, InoCarts e InoKits) y equpo para almacenamiento de aquellos materiales sensibles a la humedad (InoCart MSD), un sistema de gestión de la cadena de suministro (InoVision), una herramienta de gestión de software de inventario/kits (InoView) y el software InoAuto Locator para la localización de componentes.
Para obtener más información y una demostración de los productos de Inovaxe, visite www.inovaxe.com.